http://www.ecoshelta.com/?kampys=migliori-broker-opzioni-binarie-2017&86e=04 I tend to enjoy listening to panel discussions more than most people. And I like them even better when I'm the one who gets to ask all the questions.
go to link On June 19, the Seattle Chapter of the American Advertising Foundation hosted an event with four of the city's strongest small craft distilleries. When they asked me if I'd moderate this panel about how to market a small craft distillery, I thought they were kidding me. But they were serious, and I excitedly prepped for a topic that I had not previously done much business research on.
follow link Our panelists were fantastic (left to right):
http://uetd-hessen.de/?deuir=tanzschule-flirten&cea=82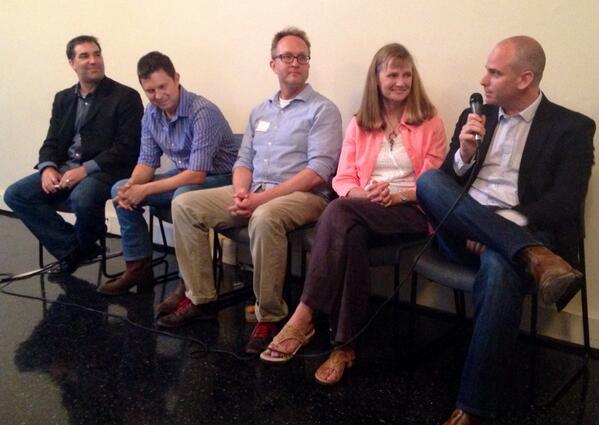 http://www.hotelosmolinos.com/?epirew=decima-victima-un-hombre-solo-rar&240=23 Here are a few bullets I took from the event:
The one piece of advice every small batch distiller will give you is, "Don't start a small batch distillery."
"Taste" can only get you so far. You have to have a decent flavor, but you are selling a brand, not what you taste like.
Your brand needs a story. Sparkle Donkey Tequila has the made up history of "El Burro Esparkalo" and then follows that up with a legend of, "In the modern era, Sparkle Donkey Tequila has come to mean many things to many people. But above all it means celebration, fertility, and quality."
Winning awards is good for a boost, but you need a great follow through campaign to keep it going.
Great quote: "Whiskey is what beer wants to be when it grows up."
Advice for anyone who thinks they can make tons of money in the burgeoning cannabis industry: "If you think there are a lot of forms to fill out for liquor, the cannabis guys have no idea what's headed their way. We love that it's getting legalized. The Liquor Control Board has so many headaches with them, they barely pay attention to us anymore."
Fact: "40% of people in the bar do not know what they want to order when they walk to the bar."
Make your bottle bright and easy to see against all types of backgrounds in all types of light. Don't let it hide on the shelf.
flirter avec une fille islam The hashtag #AAFInsights has more of these nuggets if you want to roll through them.
Thanks to the AAF for letting me moderate. It was a blast and I hope people in the audience had as much fun as I did.