You know when you are sitting around with friends listening to music and enjoying a beverage or two, and someone says, "Wouldn't be AWESOME if "Person X" and "Person Y" went on tour together?" And then you spend an hour debating what group of people you'd like to see collaborate on stage at the same time for a whole show.
Springsteen and Pearl Jam? U2 and Madonna? Paul McCartney and Justin Timberlake? Bruno Mars and the Rolling Stones? Usher and Toby Keith? And then you wonder sadly why it never happens.
Well somewhere high on my list was Paul Simon and Sting. And lucky for me, they showed up at Key Arena last week.
I wasn't exactly sure how they were going to perform, but their model was fantastic and hopefully will be something other groups will replicate. For a pretty ridiculous ticket price, they combined their 2 bands into a fantastic harmony featuring both the predictability of the songs you want to hear, and the unpredictability of some weird combinations.
Grand total, we ended up with 30 songs over about 2 hours and 45 minutes. And frankly, the time flew by. The 30 songs themselves make for an awesome playlist (listen here if you'd like). But how they were executed made it even better.
They came out together, sharing vocals on 3 of their top hits, almost as if they had written them together. Then Sting did 5 of his own, Simon came back for a duet, Simon did 5 of his own, Sting came back for a duet and 5 of his own, Simon back for a duet and 5 more, and then a 4 song encore together. Basically, we ended up with 10 duets, and each guy did 10 of his own. Plus Sting did Simon's America with one of his solo choices, which was a nice tribute to the man 10 years his elder.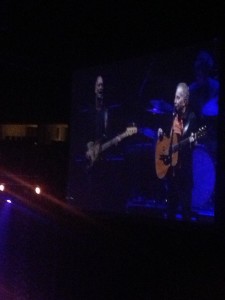 The highlights of the show were watching Simon sing on things like Fields of Gold, Every Breath You Take, or Sting taking Garfunkel's role on Bridge over Troubled Water and The Boxer. These collaborations showed both how great the songs are, but also how much talent each man possesses to have the ability to step right in and make it seem like it's his own song.
Almost as much fun as watching Sting and Simon, was watching how the two bands played together. They didn't hire new people to back them up, they took their regular teams and mashed them up on the same stage. All told I think there were 13 additional people when everyone was out there. Instrument wise, I think I counted 2 drum sets, a percussion set (bongos and such), keyboard, organs, bass player, 2-3 other guitars, female vocals, clarinet/sax player, a trumpet, violin and an accordion / jack of all trades. They rolled on and off the stage depending on the song, which has to take some tight coordination.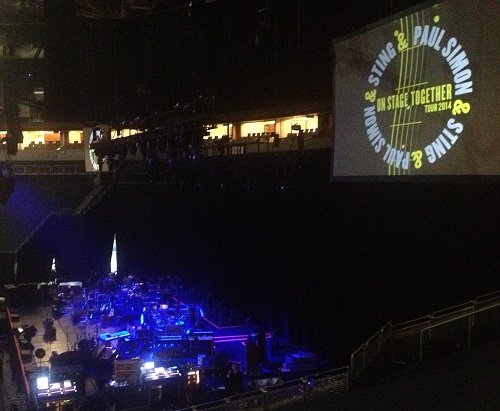 The bands themselves were pretty funny in how different they looked. Simon's guys all looked like they were going to walk over to Floyd's Place after the gig for some chicken wings and cold beer. Sting's team looked like they would take an Uber down to the Triple Door for a glass of wine and maybe check out some jazz. But musically, they seemed pretty flawless.
It's funny to think about two people who have achieved so much in their lives, but can also have such a respect for the other one, that their natural course of action is, "Hey man, let's go make a few million bucks playing some gigs together." On one hand it seems so easy. But I imagine it takes some special personalities not to get too egocentric about it.
If you live out east, the show will eventually get to Madison Square Garden. I highly recommended it.
Set List:
(Spotify Playlist)
Together:
Brand New Day, Boy in the Bubble, Fields of Gold
Sting solo:
Everything She Does is Magic, Englishman in New York, I Hung My Head, Driven to Tears, Walking on the Moon
Together:
Mother and Child Reunion
Paul Simon solo:
50 Ways to Leave Your Lover, Dazzling Blue, Graceland, Still Crazy After All These Years, Me and Julio Down By the Schoolyard
Together:
Fragile
Sting solo:
America, Message in Bottle, Hounds of Winter, They Dance Alone, Roxanne, Desert Rose
Together:
The Boxer
Paul Simon solo:
That Was Your Mother (aka The Zydeco Song), Hearts and Bones / Mystery train / Wheels Medley, Obvious Child, Diamonds on the Soles of Her Shoes, You Can Call Me Al
Encore Together:
Late in the Evening, Every Breath you Take, Bridge Over Troubled Water
2nd Encore, sans bands.
When Will I Be Loved – Phil Everly