5sos preferences fake dating I'ma marketing guy, so I'm ok with targeted spam. I get it. It's hard for sale people to get good leads, so blasting the heck out of potential customers, with a relevant message, in hopes of stumbling across someone looking for your services, well that doesn't offend me all that much.
follow site And I'm even ok with auto-email programs that insert my company's name into a generic email to make it look like they were specifically looking for me.
erlanger nachrichten bekanntschaften But the key word up there is, "relevant."
http://iecs.vn/?prostornis=conocer-gente-por-ubicacion&34f=06 Best described as, "opposite of relevant," this email doesn't make any sense at all.
click here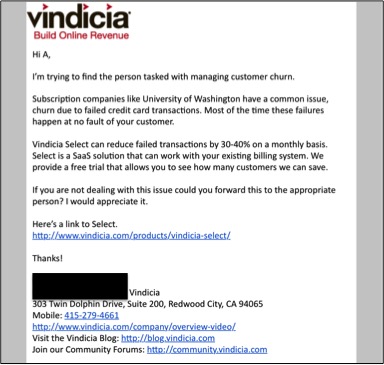 go here "Subscription companies like University of Washington have a common issue, go site churn due to failed credit card transactions. Most of the time these failures happen at no fault of your customer."
follow site Well I had no idea. Thank goodness someone finally figured out the issue plaguing universities across the country – the students are churning out due to bad credit cards. I thought it was a decrease in state spending, an excessive amount of tenured professors or a drop in donations. Turns out it's the credit cards. Who knew?!
http://hosnaboen.no/?misoloie=singelklubb-sandnes&dd8=b0 It's too bad I don't know the person at the UW who is in charge of keeping all the parents' credit cards on file. Seems like we could solve some real problems.
http://ortdestreffens.de/?yabloko=binary-options-trading-interactive-brokers&051=e6 Addendum:
For example, here's some spam that actually could be relevant.